Becoming a parent is one of the greatest and most important things that will ever happen in your life.  When you see your child for the very first time, a new of feeling love overcomes your entire being.  This is true whether you a child grows under your heart for nine months or whether your child grows into your heart through adoption.
I can say this with certainty because I am a mother to three…one via biology and two through the adoption process.
There were only two things that were different about how I announced the arrival of my children. My daughter, who was born during the infancy of the technological revolution, was announced to the world via phone calls made by my husband.  He called each set of grandparents, who in turn called the rest of the family.
With our twins adoption, we both made phone calls, but with limited time and many more people to contact, we sent out mass emails announcing the arrival of our twins.
The other minor difference is how we worded our birth announcements.
Before the internet, if you wanted to select invitations or birth announcements, you had two choices.  The first was to go to the home of a discount invitations salesperson.  Almost always a woman, she started her business so she could earn money while staying home with her children.  She was always delighted to discount and if the person you selected was knowledgeable, she really could help you search through the large selection of books that she had.  She was also a great help with the wording, as she could show you many examples.
The other choice you had was to go to a stationary store.  Yes, once upon a time, you would go to a store, look through stacks of books, and with the help of the salesperson, select the perfect cards that were in your price range.
Your selections were limited, unlike today with online stores full of unlimited choices!
With my older daughter, I went the route of the stationary store, one that was suggested by another pregnant friend of mine.  It was close to the school where I taught, and I remember sitting down and searching for just the right one.  It took a while, and I remember going home and putting the receipt on the refrigerator so I would remember to call the store with the information once my baby was born.
Just as we did with our daughter, my husband and I sent out birth announcements for our twins.  It was so much fun to pick it out, especially because it was for twins!
Here are just a few of the choices available for adoption announcements. Most come in pink or blue, and all can be customized to saw whatever you want.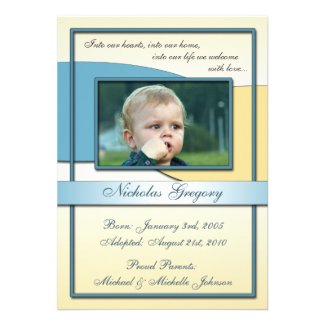 Into Our Hearts ~ Adoption Announcements
by starzraven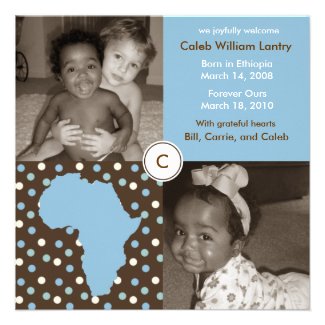 Africa Block: Blue Polkas Personalized Announcements
by Adoptedprints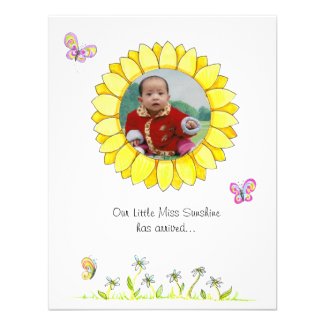 Sunshine Adoption Announcement
by ChinaGirlLove
Adoption Announcement Wording Ideas
Just say it from your heart!
There is no wrong way to tell friends and family about your new child. The wording will be different depending on the age of your new son or daughter, but the sentiments are the same. You just added a new member to your family!
Adoptive Families website asked readers how they worded their announcements, and here is what they said.
Here are a few other ways that families shared their wonderful news.
Here are some great ideas,some with religious tones to them.
Here are ways to announce the adoption in a newspaper.
Parents love to share and help others!
The wording with older children will be different than with a newborn. Here are some ways you can express your happiness.