Decorative Doggie Throw Pillows for Mad Bulldog Fans
Wrinkly-faced chubby bulldog puppies or full-grown muscle dogs, Winston Churchill look-alike British bulldogs, powerful American bullies, or the elegant smaller Frenchies – you'll find them all celebrated in the homes of dog lovers, on a remarkable variety of decorative throw pillows.
Here, for example, one of the great Manual Weavers pillows in the Paws and Whiskers line, Bulldog Baby.  The artwork is by American artist Robert McClintock, known for his lively style of pet portraits in rich deep colors – I'd love to have one of every design he's ever licensed, just because the bold brush strokes have such a sense of joy, they'd certainly chase away the blues from any dull day just as effectively as the dogs (and cats) he portrays in his art.  Oh, and this 18-inch square puppy pillow is made in the USA, always good to know.
French, English or American bulldogs, whichever flavor you favor, these dogs are real characters in the canine world – well worthy of the artistic portraits that you'll find on decorative throw pillows to celebrate your favorite breed with cuddly comfort, on your living room sofa or in the bedroom.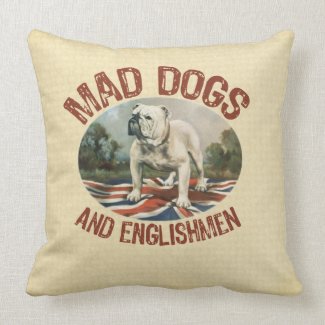 English Bulldog Pillow
Do you know the inspiration for this pillow? It's the satirical 1930s song by Noel Coward, best known for the repeating line "Mad dogs and Englishmen go out in the midday sun."
The Mad Dogs and Englishmen Pillow features  the proud British bulldog on guard astride the Union Jack flag, backed by a lush green and rather romantic landscape. The illustration is vintage, but this particular design is by MadDogs, one of the independent artists of Zazzle. I particularly like the choice of font, an aged and distressed style of block lettering in a muted deep red.  If there's an Anglophile male on your gift list, or a masculine library to be decorated, I can't imagine a more appropriate accent.
Queen of the British Bulldogs

This linen/cotton English Bulldog Pillow (with a hidden zipper) is luxe enough to crown the pink pillow stack on the daybed of a teen girl dog fan. Absolutely fabulous, with the Union Jack flag done in non-traditional rosy hues, and a whimsical English Bulldog beauty in her wrap, earrings and tiara. The vintage style postal mark in the lower corner is a nice detail, too.
American Bulldog Pillow
The American Bulldog breed is considered a fairly recent development in the canine world, but quickly growing in popularity for the appealing combination of manly good looks and winning temperament.  Check out the American Bulldog Association to learn more about these massive bully beauties.
The photographer/designer behind the striking American Bulldog Pillow  is from Wooster, Ohio, USA and goes by the name of pentexslr on Zazzle.  It's a very masculine and casual look, with the white-and-brindle dog's strong profile set against a brown-white-and-rust plaid effect that echoes his coat colors. Great for the man cave, lodge, or family room.
Recently I had the pleasure of working with two American bullies who looked almost exactly like this guy – one was a big solid 4-year-old dog who knew beyond any doubt that the whole world was his friend, the other was still just a tiny goofy puppy, smart as a whip.  I'd have taken either of them home with me, in a heartbeat!
Smile, You're Loved By a Bulldog!
Happy Bulldog Pillow, Made in USA
Patrick Reid O'Brien is the artist behind this beautiful burgundy Dog Crossing Pillow with an illustration that's reminiscent of an old advertising sign or the kind of retro billboard you can still find, in some out-of-the-way parts of America, painted on the side of an old barn and fading gracefully into history.
DIY Personalized Pillow?
If you've got a good clear photograph of your own bulldog, why not make your own custom throw pillow to honor him? It's surprisingly easy to do it on Zazzle.com – just upload an image and use their online tools to tweak the placement of your image on the pillow you want to order. You can choose from square pillows or the horizontal lumbar shape, whichever  orientation is the best fit for your dog portrait. Hey, you could even offer your own pup's portrait pillow for sale to other bulldog lovers, through the Zazzle marketplace – who knows, you could earn enough to buy a few of those really special dog biscuits he loves…
On the other hand, if needlework is more your skill, print out your photo on the special paper that's made to do T-shirt prints and transfer it onto a piece of the needlepoint canvas or crosstitch Aida cloth you like best, then wield your needle in the exact colors of yarn or floss to replicate your own dog's handsome coloring.
Mounting a piece of needlework onto a store-bought plain throw pillow or pillow cover can be as easy as whip-stitching around the edges, or if you work in a large format you can just use your crafty creation as the entire face of a pillow – just add fabric and a few rows of straight stitching, then stuff with poly fibrefill or a pillow form from the craft store.  You can do this!
Accent Pillow in Bulldog Form
Here's a dog that can be your silent companion on the couch, if your landlord won't allow you to have a pet. He's an eye-catching bold blue fellow, sure to be a conversation starter when you have guests over!
Silk-screen printed in soy inks on organic cotton, the Areaware Screen-Printed Blue Bulldog Pillow designed by Ross Menuez is fabric art indeed. Measuring about 12 x 16 inches, it's especially cute in a bedroom where the sitting bulldog can stand guard over your pajamas while you're at work. (Every dog needs a job to do!)
Alternatively, you could prop the pillow on a window seat or on a wicker chair in your sun porch, to entertain people who pass by on the street outside and greet you when you come home – not quite the same as having a real bulldog of your own, of course, but a cuddly stuffed substitute with a "ruff" charm all his own.
Soft Art for Bulldog Lovers
I've always looked on throw pillows as being pieces of art, not to mention a real conversation starter, just as much as they are soft home decor accessories to make a deep couch or chair more comfortable.  That's why it is really important to take your time and choose a pup pillow you'll love to live with.  Fortunately, if one style is not to your taste – if you're more MoMa than Granny's crafts, for example – you're sure to find another that really speaks to you.  The only real question is this – which kind of Bulldog will be the heart of your home decor?