Why I Created Stateroom Door Markers
My first stateroom door marker was created to help solve a problem my husband experienced on our frequent cruises.   You see, the love of my life  has no head for numbers.  Can't remember them.  He was always forgetting our cabin number.  He could usually remember what deck we were on, but that was about as far as it went.
Now, if you've ever been on a cruise ship – most particularly one of the larger ones – you know what those hallways where the passengers are housed are like.  They're seemingly endless rows of  basically  identical doorways.  Like in a hotel, each door has a number identifying it, but he never seemed to be able to remember our cabin number.
The sea pass card that you carry with you everywhere is not only ship's currency for all your purchases, but it's also the key to your cabin.  However, it does not have your cabin number on it.  That was no help for him.
Eventually, I got tired of watching him write  our stateroom number on his hand every morning.  Really.
 Image: Some Stateroom Door Markers

Our First Cruise Door Magnet
Soon, my first stateroom door marker was born, though didn't call it anything special.  It wasn't the total solution to the problem, but it did help.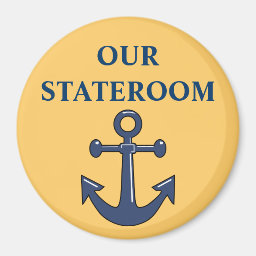 Anchor Door Marker Magnets
by CruiseReady
So, what is a Stateroom Door Marker?  It's simply a fun little magnet that you can place on your cabin door.
A quick little nautical design, featuring the ever popular anchor, and the words "Our Stateroom," was the first stateroom door marker we ever used.
I still like this one, because it's simple, and classically nautical. Yes, it's now available for purchase, along with others featured on this page.
Today, there's quite a variety of these special purpose magnets at CruiseReady on Zazzle.
Bon Voyage Gifts for Cruising Friends
We soon found that our cruise buddies liked our little magnets.  Not only did they make fun, inexpensive  bon voyage gifts, but they made nice little keepsakes after their voyage ended.  So, I began adding a little customization, like the names of those cruising in the cabin.
When we cruised with friends or other family members, we had one ready for the occupants of each cabin in our group.  They really liked them!
Custom Stateroom Door Markers
Finally, I realized that, since our friends were keeping their little magnets as keepsakes of their cruises, those souvenirs needed to be voyage specific. Further, I began making them available for others to purchase from my CruiseReady on Zazzle gallery. So, now, you can purchase a generic marker, a personalized one, or one that can be customized with the name of your ship, the date of your sailing, and other pertinent information.
Customization is easy – just fill in the blanks, check the visual to see that it looks the way you expected, and presto! Your custom door marker will be professionally printed and shipped to you by on demand printer Zazzle.
Cruise Swag or Stocking Stuffers
Stateroom Door Markers make perfect stocking stuffers at Christmas time.  They also make nice, impressive little premiums, or cruise swag,  for Cruise Travel Agents to give out to their favorite repeat clients.
Browse Stateroom Door Markers now, and find a special souvenir of your next cruise before you even board the ship.