You know what they say in the big corner office – When all else fails, throw a dart!
So, you remember the old Magic 8 Ball, that decision-making office toy that came out in your grandad's day and hung around ever since? It's still going strong in the gag gift department, because – well, hey, who doesn't like to offload the responsibility for making a decision on an inanimate object from time to time?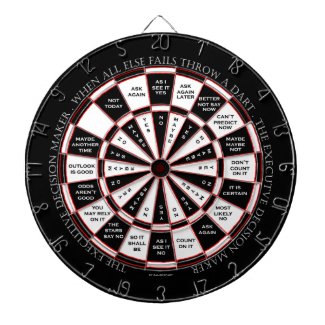 Now there's an office toy we like even better – all the responsibility-ducking fun of the classic Magic 8 Ball, but it's a custom-printed dart board!
Instead of shaking a black plastic ball and looking for answers to life's tough little questions, why not throw darts at a good-looking dartboard and get the same kind of useful (or not) random solution?
Work off those high-cal indulgences at the boardroom lunch buffet with a little pub-style body language, flinging darts at the Magic 8 Ball Style Dartboard, instead of sitting on your keister at the desk with an old ball in your hand!
The Executive Decision Maker Magic 8 Ball Style Dartboard  is a real regulation 18-inch dartboard, too – with 6 brass darts included.
Game on, boss man!
Photo credits:
darted 03.12.09
by timlewisnm [CC BY-SA 2.0], on Flickr; Executive Decision Maker dartboard by
SalonOfArt
on Zazzle.